These are available now at bohnman customs!
www.bohnmancustoms.com
Hey guys, I've been wanting to create a bracket to fit v2 calipers onto a gto for some time now and finally got around to doing so. If you have seen any of my other bracket threads (
http://www.ls1gto.com/forums/showthread.php?p=8747353#post8747353
&
http://www.ls1gto.com/forums/showthread.php?t=437821&highlight=
) you'll notice that I have a set set of requirements & will make them happen if they are not available to me. Same goes for this.
Evenso that the CTSV2 front rotors are 370mm (14.56") and originally ride on vehicle equipped with 19"+ wheels I've been wanting to fit a cts-v caliper in an 18" wheel. I figured out that the gen 5 Camaro SS/Pontiac G8 GXP rotors should do the job, they were smaller in diameter (355mm - 14") and utilize the oem brembo 32mm grasp thickness since they come from a car equipped with them from the factory already, also the 5x120 bolt pattern is retained as well, so it was pretty much a win in almost every category for me. The challenges to be dealt with were the Hub diameter & wheel stud differences between the gto & GXP/SS rotors.
The G8/SS rotors have a smaller hub diameter/circle on them than the gto; the gto seems to be a unique case as most cars aside from larger saloons/sedans or even trucks only trump it in hub diameter clearance.
Being as the gto hub clearance is 71.4mm and the GXP/SS is 67.4mm, I had to do some work to open it up to gto specs, which can be even done with regular demurring bit attachments or fanciers ways via a lathe. After the clearance was dealt with, the wheel stud holes were adressed.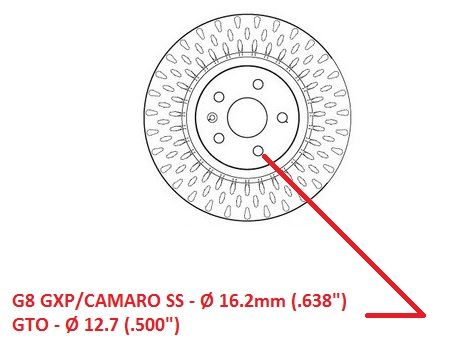 As you can see the G8/SS have larger wheel stud bolt holes, this is due to them using an m14 stud opposed to the Gto m12 studs. I didn't like the looser fit of the rotor around the studs so I went ahead and designed small sleeves that slip/press into the G8/SS stud clearance holes. These sleeves replicate the gto stud clearance and sit below the rotor surface in order to not cause any clearance issues. They make the rotor feel as if it was meant to be on there in the first place.
The bracket is pretty much bolt on, with no compromise at all, the calipers go on without issue over the rotor/bracket setup. I even test fitted an oem gto 18" wheel and it cleared, minimal clearance but it clears. And those 6 Piston V2 Brembos do look menacing behind the stock wheels!
I do not wanna blow my own horn but I think I really did outdo myself on this one, I knew wheel clearance with the stock +48 offset 18's would be tight or even close where I would have to use a spacer but it all bolts in!
Rotor clearance is held with oem spec as well:
Bolted in pre wheel test: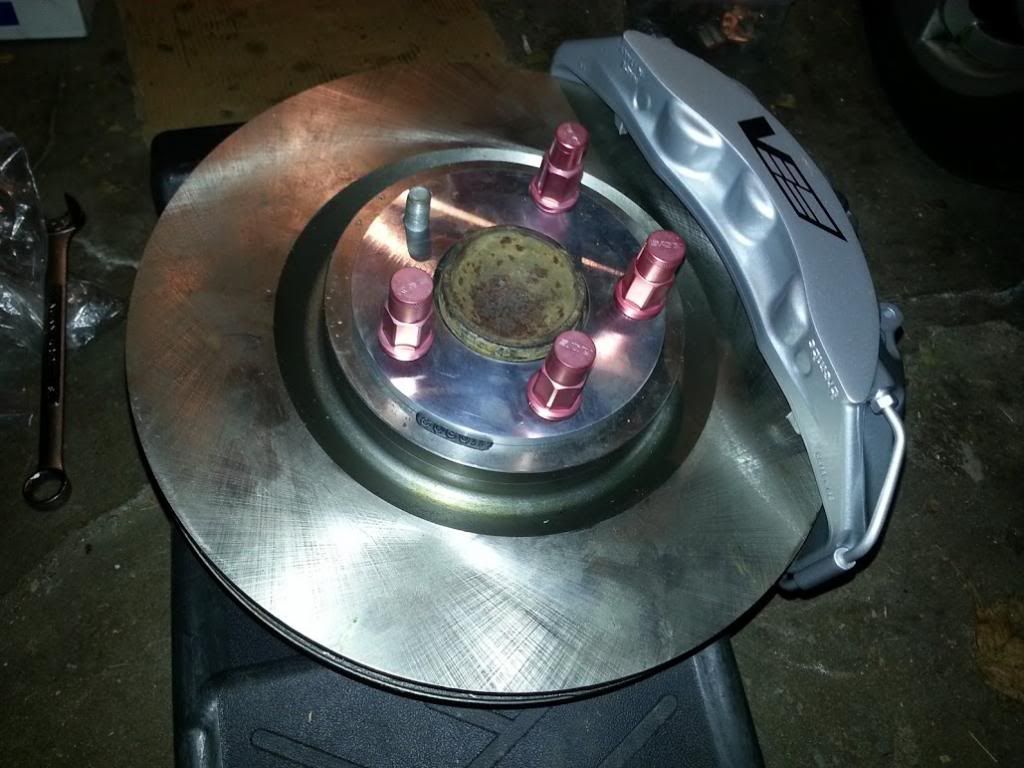 Spinning free (bolted in pre wheel test):
Spacer in pics cause lugs were too short lol.
The GM part #'s for the 6 Piston CTS-v2 Brembo Calipers are 25912967 & 25912477
They can be had thru many retailers, in ranges of 700-900$ per set, amazon for example has them roughly 340$ a piece:
[ame]http://www.amazon.com/ACDelco-172-2488-Service-Front-Caliper/dp/B00559OB7E/ref=sr_1_1?ie=UTF8&qid=1354730755&sr=8-1&keywords=25912967[/ame]
[ame]http://www.amazon.com/ACDelco-172-2487-Service-Front-Caliper/dp/B00559O9A8/ref=sr_1_1?ie=UTF8&qid=1354730729&sr=8-1&keywords=25912477[/ame]
GM# 25912477 (AC Delco# 172-2487) - Silver 6 Piston Front Brembo Caliper LH
GM# 25912967 (AC Delco# 172-2488) - Silver 6 Piston Front Brembo Caliper RH
GM# 20982719 (ACDelco #172-2521) - Yellow 6 Piston Front Brembo Caliper LH
GM #20982734 (ACDelco #172-2522) -Yellow 6 Piston Front Brembo Caliper RH
Remanufactured CARDONE 18-5200 & 18-5201 units can be had for 160-200$ each.