Discussion Starter
•
#1
•
As you know we here at DSS are always trying move the quality of the parts we make forward and better, we have never been one to rest on our laurels and do the same thing day in and day out. This being said after talking with several customers, several more distributors we have decided to just start using 300m in all the axle parts we make for the GTO.
New 300M stubs from now on $549.99(starting Monday the 12.12.11)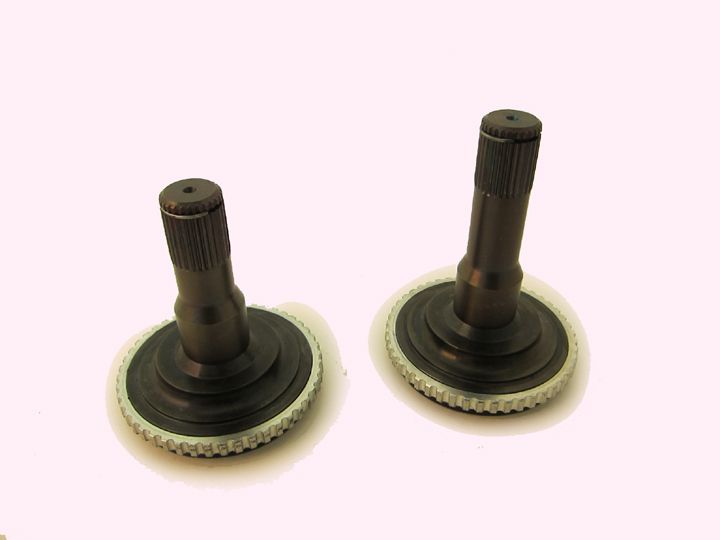 Why you ask ? well lets just say that after years of development and testing we have realized that a 550Hp all motor on drag radials can damage an axle just as easy as a 900hp turbo car. Hp and Torque ratings are good but the cars' set up and driver input have so much to do with the outcome that we feel making the parts from 300m from now on is the proper way to go, the cars are nearly 4000lbs and its time to stop guessing whats needed and get to making parts with out compromise. Also starting this week we have the powder coating line completely operational and all Axles, stubs and other metal parts will be coated to keep up with our commitment to quality.
Now normally 300m parts carry a premium and cost allot more then the 4340 counterpart. We have secured a buying agreement with a mill in Sweden that allows us not only a steady stream of the material but also at a cost that allows us to manufacture the parts at a discounted rate.
300m axles that have been sold for about 2 months now still 799.99 .....
Some of you have been lucky enough to purchase our axle recently made from the 300 material and at a cost that most would pay for the 4340 units. The axle and stubs will have rolled splines and heat treated to our new demanding specs that are second to none and not only have they been Lab tested, they are the same axle that are used in 3 of the record setting 8 second passes in a GTO.
Our Anti-wheel hop axles are the best using a small 1-1/8 bar on one side and a new 1-1/2 on the other, this combination is by far the most efficient Anti-hop system since Thomas Hendrix asks us to make the 1st set back in 2009. we also have the larger 30 spline axles for any application if the car has a upgraded Diff and will see the Sub 8 second runs like the DSS/Hendrix cars have recently seen. The stubs for the stock rear will have 300m stubs that are a 2 piece design using a 4340 flange but is using a larger 31 spline for the attachment, dont worry we include caps for the end of the axle so if the car needs to come apart the axles will remain clean and trouble free (will work with any stock axles also)
So there you have it, nothing but the best and only from the Quiet Experts at The Driveshaft Shop.