Updated 06/15/12
Hey guys the bracket was a success. I didn't want to blow my own whistle by creating something and not fully testing it, but after 3000+ miles of use/abuse I have all the data and confirmation that I needed.
here's what 3000+ miles of abuse/usage looks like on the brackets.....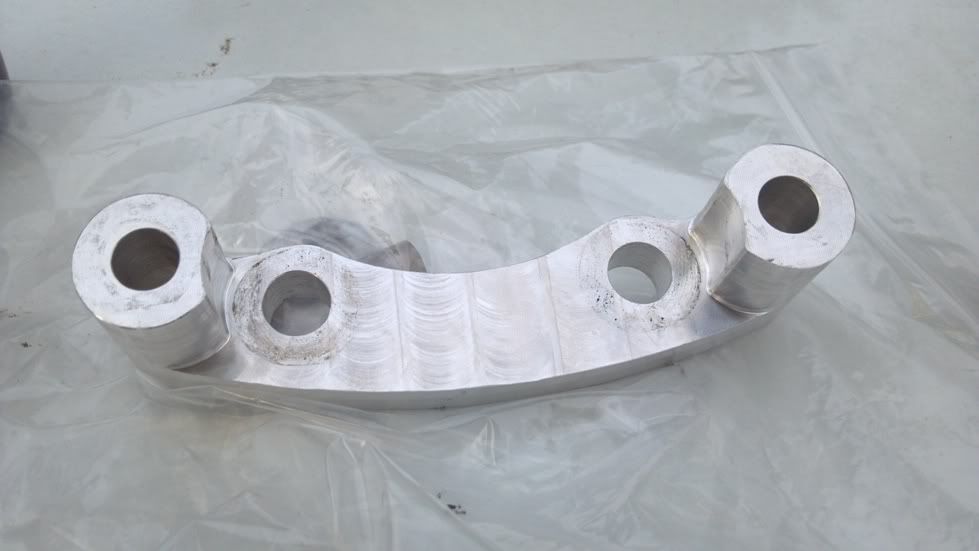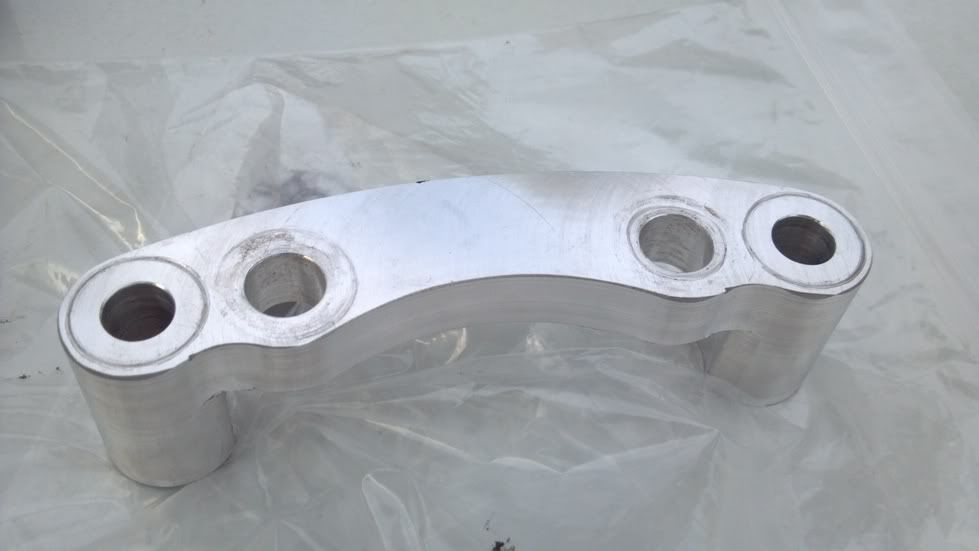 Virtually no change, no heat spots no indication of any type of warping. But a visual inspection wasn't just enough for me, so I proceeded to check other actual aspect. Flatness was retained at .001" (one thousandths of an inch) across the whole length of the bracket, on all mounting surfaces, perpendicularity measured within the same region, meaning there was virtually no warp present, shape was retained; nothing changed over the course of the mileage. Hope this helps ail alot of aluminum skeptics' suspicions. This finalizes my testing phase, production would be the next phase. If anyone is interested in a set of these please let me know.
What would be needed to run these brackets on stock 18's with cts-v/sts-v 4 pistons caliper front brembos:
-The brackets themselves (which, if anyone is interested I can get to them for 200$ for the set with mounting hardware).
-C6 Corvette Z51 front rotors 13.4" (340mm), advanced auto parts #YH200436 or gm #89060328
- Stock mounting bolts to mount bracket to spindle (will need bushings on 04 gtos mcmaster p/n 6679K16 – 2 per bracket – 4 per set)
- m12 X 1.75 bolts in 65mm length and 10.9 grade with washers.
- 5mm wheel spacers (5x120 bolt pattern), akata spacer (
http://stores.ebay.com/akataspacers
) makes good ones.
- 2004 Gto would have to use a sleeve adapter spacer bushing (
www.mcmaster.com
#6679K16 )as the 05-06 gto spindle (which this bracket was modeled around) uses 14mm bolts and 2004 models use 12mm bolts.
Its all basically bolt on aside from needing to use grinding bits to grind away the inside of the rotor (about .100") until it fits on the gto hub since corvette rotors have a slightly smaller center bore. Here is an example of a grinding bit kit one would use on something like this, if they already don't have one already
http://www.sears.com/gl-46-piece-professional-rotary-tool-kit-die/p-SPM5721744803P?prdNo=20&blockNo=20&blockType=G20
Also, for 05-06 guys, I wouldn't recommend installing brembos (regardless of which bracket used) without 04 gto lines; they are longer hence providing more slack which is much appreciated over the short stock 05-06 lines. Trying to fit stock 17's may be successful with these brackets if you are willing to grind away at the caliper, I wouldn't suggest it and wouldn't guarantee function/success.
Gm Part #'s for Front Cts-V 4 Piston brembo calipers (gmpartsdirect.com is a reputable site) :
25750250 right with pads
25750249 left with pads
89047727 right with out pads
89047726 left with out pads
Thanks for looking.
Hey guys, recently I've been working on a bracket adapter to fit a front cts-v(v1)/sts-v brembo caliper onto a gto. My intention was to make something lightweight & durable as well requiring little to no augmentation to fit; form and function. A big factor/required of mine was to utilize the rotor thickness that the brembos originally bite on, which is 32mm (1.26"). A third goal was to make the stock 17's fit.
I can successfully say that I've achieved at least 2 of those goals. Alas,my goal of having the factory 17" fit wasn't one of them; I didn't account for the massive taper towards the inner end of the wheel. I compensated leeway for a 16.5" diameter but not for a 16", which is what it seems to taper down to, there is about 1/2-3/4" of space above the wheel mounting surface before the brembo would start to rub the rim, I'd estimate a 1/16" of an inch closer to the center and it would have fit all the way though; grinding a caliper (for me) is not an option. Although I did manage to bypass the taper and fit them with some wheel spacers. All in all, this was the biggest letdown for me, but besides that, the bracket fits like a glove. I utilized a 340mm (13.4") disc 32mm thick from corvette grand sport/z51 which has a very similar P.C.D. as the gto, so they fit quite nicely, problem is the inner rotor diameter where the factory hub ring centers the rotor is roughly .030" (1/32") smaller in diameter on the corvette rotor, hence the rotor would have to be cut to make fit (on the pics you see I actually cut the hub for show in order as to not cut the rotor).
Another goal achieved was a sturdy/lightweight/durable bracket, made from aluminum ofcourse.
One observation I've made is that 04 gto hubs utilize a m12x1.75 thread to mount the factory bracket while the larger 05-06 c6 derived brakes utilize a m14x2.0 thread for the factory bracket; as my test hub was a 05-06 unit and my buddy's gto is an 04, I found this out at the last minute when the mounting holes were already made to accommodate the larger thread.
Cliffs:
1. Guy wants to make brembos fit gto
2. Guy makes bolt on bracket but stock 17's don't fit
3. .......
4....... might consider stock 17" bracket in the works.
LMK what you guys think.
Damian.