Discussion Starter
•
#1
•
As most of you know, almost all of the fastest cars on this board run Driveshaft Shop/Hendrix drive train parts. In the past we have been in the shadows, keeping to our shop and doing what we do best, which is making great drive train products. We recently developed a narrowed 9" rear for the GTO. Being that our roots have been in the GM market, supporting every model with sub 8 second runs, we felt that it was time to just go ahead and do it. We contacted Jeremy (LS2-Goat) as he is the fastest 6-speed GTO. We wanted to pick a car that was well known and had enough HP to test our new design to the very limit. We have been working with Scott Bagshaw of Bagshaw Fabrication in Mooresville, NC on other platforms that we have used the 9" rear in, such as our new Camaro and SRT8 9" conversion kits. He had also already done some work for LS2-Goat so it was a good match. All I can say is, just take a look at the execution of this install, the pictures speak for themselves.
This kit is fully built to withstand the most punishing setups and keep going without a whimper. In addition to the 9" housing, brackets and hardware, we are also including our signature 1400HP Pro-Level axles with the uber-strong 30 spline center bars. These axles are without a doubt the strongest on the market, with 300M Races and full billet 4340 CV cages. The billet axle stubs going into the differential are also included and are 31 spline to fit many of the popular center sections. We have been asked why we don't use a larger spline into the differential, and to be quite honest, anything larger than the axle center bar is not going to make it any stronger (we use a 30 spline center bar, unlike the standard 28 spline that most 108mm CV's use). This design is the same as can be found on Lingenfelter's 2010 Camaro running 8.99's, and at 4200lbs it is a testament to how strong they really are (not to mention Tbones killer 8.90 GTO).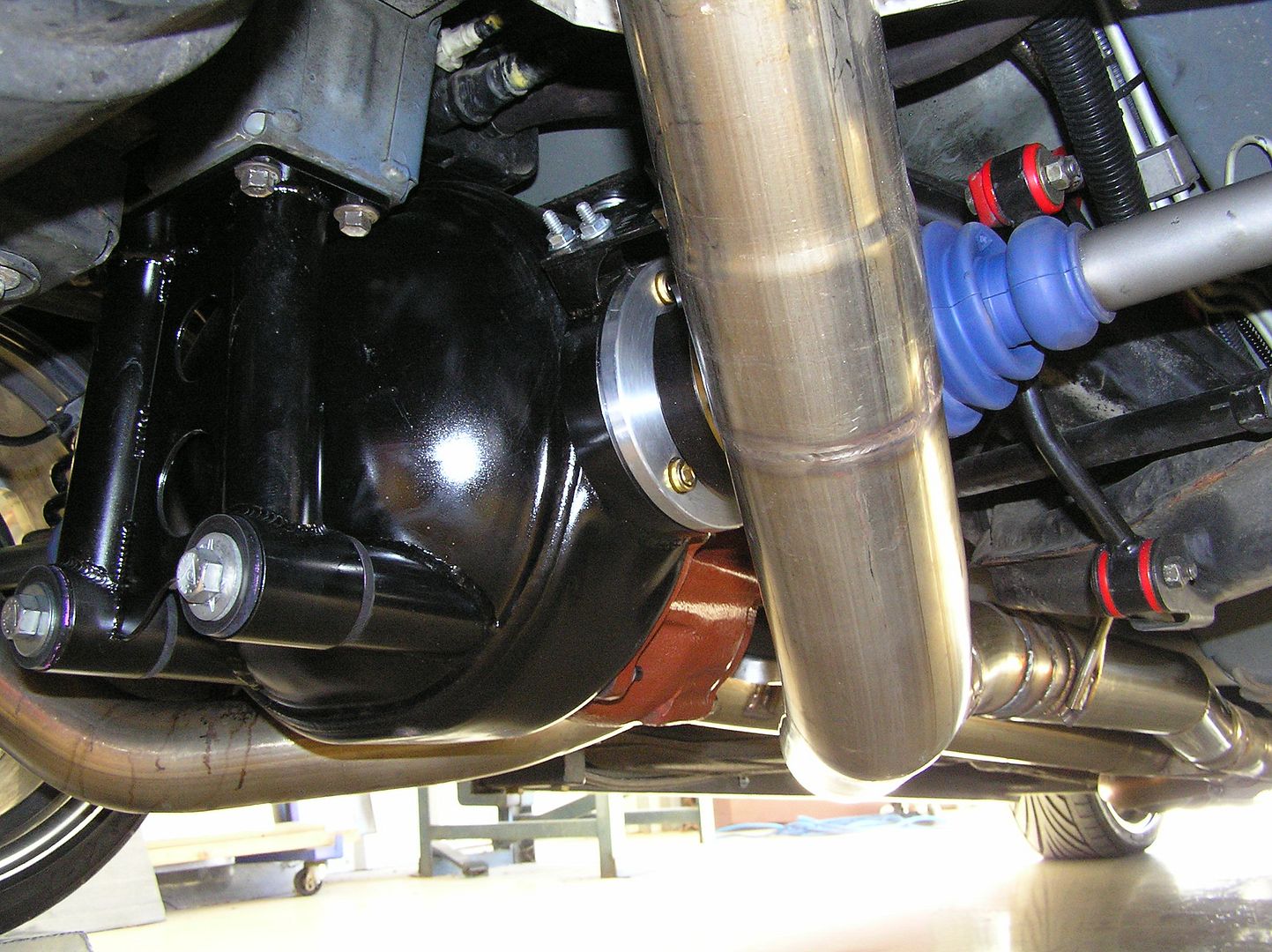 When we are designing our products we will first send them out to a testing lab and test a few different heat-treat specs and even different material compositions until we find the results that we want to achieve. We have also recently aligned ourselves with a mill in Sweden that is producing a modified version of 300M for us that we have found to be 15% stronger than regular 300M in testing (with our heat-treat specifications). There isn't any guesswork here, only results and fast cars that with our help will keep getting faster.
The kit will come with a choice of a 4" Aluminum shaft or, for a nominal upgrade fee, the new 3-3/4" Carbon Fiber shaft (using our new bonding technology, see our website for more info). The shaft will also have a Strange billet transmission yoke of your choice and solid 1350 series u-joints. It will be balanced on our new true to speed 9500RPM balancer (click here for more info). We will not be supplying the center section with the kit, this is a bare 9" housing, but will be happy to quote you for either a Strange or Spraker Racing center section by PM.
When you're ready to get to the next level and want the parts that will get you there and keep on going, we have your answer, only from The Driveshaft Shop.
Part number GM9R-4
1. Ford 9" housing
2. all brackets, mounts and hardware needed for the install.
3. (2) 1400hp rear axles with larger 30 spline center bars and ends caps
4. Billet 31 spline flanges for the diff.
5. (1) 4" Aluminum Driveshaft with solid 1350 joints, Strange Billet trans. yoke Balanced on one of the most sophisticated machines in the industry.
6. vent port with rubber line
7. 1 year warranty from DSS (been in business for over 35 years)
8. Production run being done now and will be available in 3-4 Weeks
special note: Depending on what exhaust you have there may be a slight modification needed to the pass/right side tube near the rear, the diff is a little off center and on this car it had to be moved.