I'm not going to cover the safety issues with jack and stands so use sense and don't kill yourself or worse damage your car! This takes me 2 hrs start to finish with air tools. This is for a 6sp; I have never done an A4 or 04 so you will have to work out the differences on your own. Again LS2 6 SP, also any mods may change this too. I don't think the LS2 A4 cooling lines would be a problem, if need be disconnect and plug. Do not unbolt rack or lines @ all!
I bought bar stock yesterday to make several sets of cradle guide bolts. I will lend them out for shipping. You can buy your own or not use any, I never have I was just thinking of safety and making this as EZ as possible.
I would say if you can do a clutch or RR an automatic transmission, you can do this no problem. This way is much easier than a clutch and if you use guide bolts no way can you drop the works LOL.
Park with wheels straight ahead take key out turn steering wheel off center to left so it locks.
Open hood disconnect battery and remove FRCs
Remove intake boot from TB and MAF.
Look down and remove this bolt for PS lines to cradle, just the 1 on R side.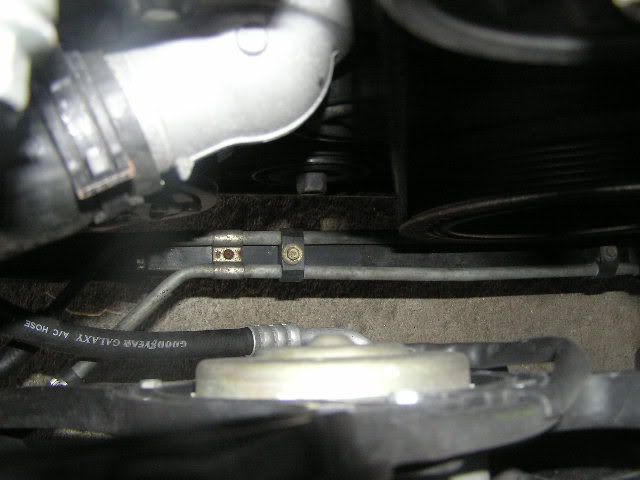 Take plug wires off coil first then plugs. If they are stock carefully twist and pull same time use lube so you don't break a coil. Take spark plugs out and unbolt manifolds. 13mm Save bolts and gaskets for later. Install 1 manifold bolt on each side loose to hold manifold from falling. On right side take 1 extra bolt out for dipstick tube and remove tube. 15mm
Slide a piece of cardboard between fan and radiator hose/water pump so it will slide down no problem or take hose off engine and cap both openings.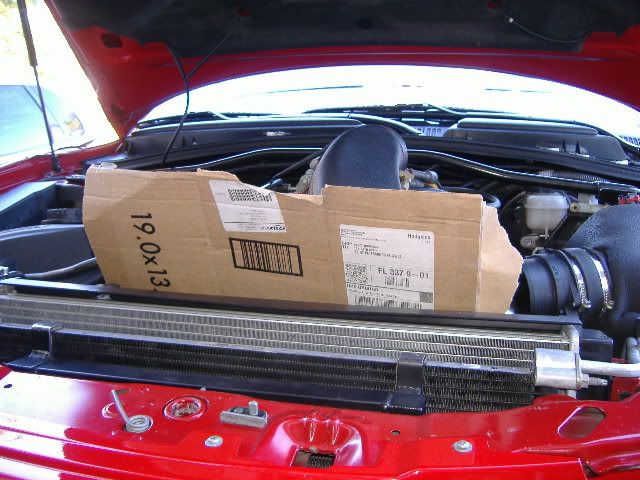 Jack up car and setup 4 jack stands remove skid. I want front stands out as far as possible for this job so there is room to work.
Ok took me 20min to unbolt everything up top and set on jack stands. Takes me 4 shots to set stands on a GTO with my cheap floor jack. Front tire is 9.5" off floor.
Check cradle alignment with handy hook tool if it's not centered make 2 and cut to exact length set off to side left and right.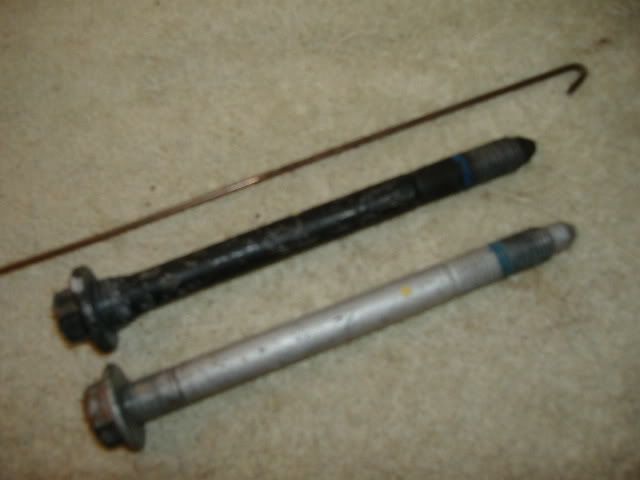 Disconnect 4 O2 wires and set out of way. Unbolt mid pipes from cat back pipe 2 nuts 2 bolts use short extension save all for later. 17mm or 15mm? Unbolt mid pipes from manifolds use extension and 13mm wobble socket use plenty penetrating oil. You can take Manifolds and Mid pips as one piece if you are carful not to damage Rack Boots.
Unbolt column coupler from rack. Remove safety clamp, nut and bolt use plenty penetrating oil.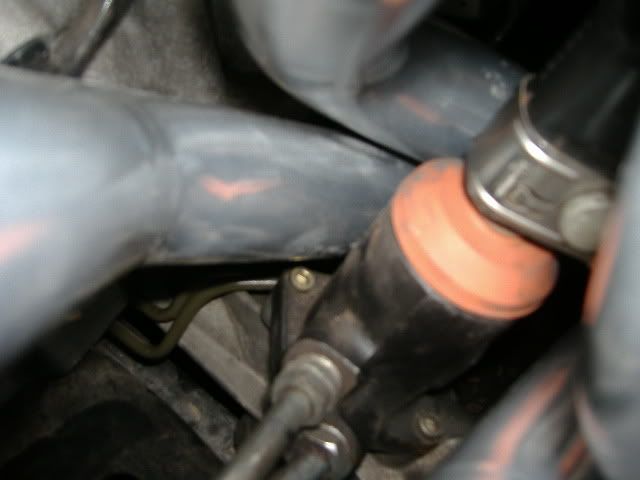 Now position jack with 2x6 under oil pan and just support make sure jack is tight.
Remove 1 cradle bolt and install 1 10" bolt 12mm 1.50 till all 4 are changed 1 @ a time. Just finger tight about 1" in. Loosen lower motor mount nuts, same socket do not remove.
Let jack down slowly and look up top and all around make sure nothing caught make sure rack coupler is sliding off.
Remove 2 Body Brace Brackets held on with 4 13mm nuts. Shown in next post, only 10 pics allowed.
Use stepstool and remove last bolt from manifolds drop out bottom or take out top.
Another 15min and stock exhaust manifolds are on ground.
Now if you want to grind coupler for clearance this is the time also trim coupler bolt length so just long enough for lock nut to work.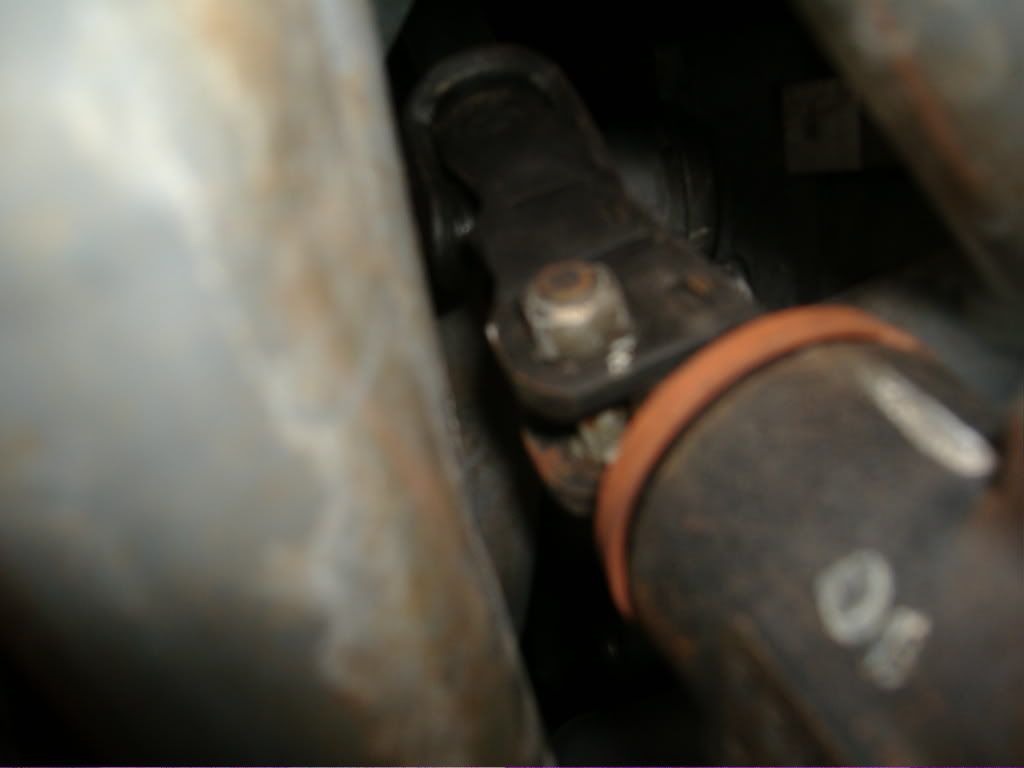 I suggest mounting knock sensor wire on left side to keep away from heat. I use 2 starter shims and same clips as original.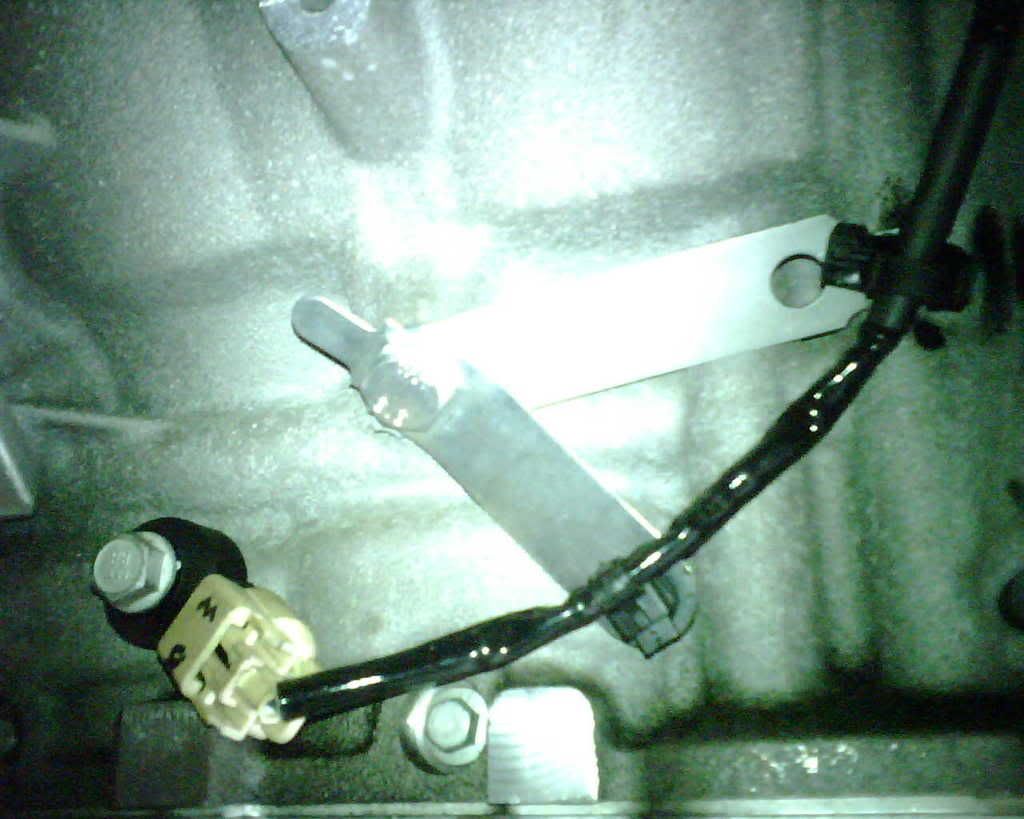 Clean any surfaces as needed. Install O2 sensors in headers and mid pipes same location clean threads and use a little anti seize.
Slide headers in from under car left side coupler shaft has to be put in place through header.
I polish stock bolts and reuse install 2 bolts on each side loose to hold headers in place.
Make sure wheels still pointed straight ahead. Raise engine and cradle slowly back to body. Locating coupler @ same time.
Remove 1 long cradle bolt and install stock bolt tight and back off 1 turn. Repeat till all 4 are back in same location. Now use pry bar to move cradle where you want. Use handy hooks to either return to former location or align to center. Tighten all 4 bolts and 2 mtr mount nuts. Next either replace 1 bolt @ a time with new or remove and use lock tight on used bolt and torque to speck. Torque mtr mount nuts to speck.
Now install coupler nut and bolt get coupler aligned lock tight and torque to speck. Or install new nut and bolt. Leave safety clamp off for clearance. Install mid pipes loose with new gaskets as needed. With kooks I use longer collector bolts with washers exhaust springs and double nut.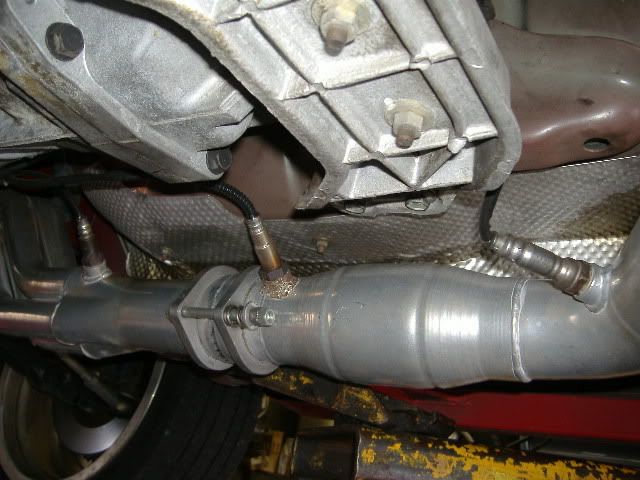 Also 2 standard 2 1/2" 2 bolt gaskets from any parts house on cat back connection.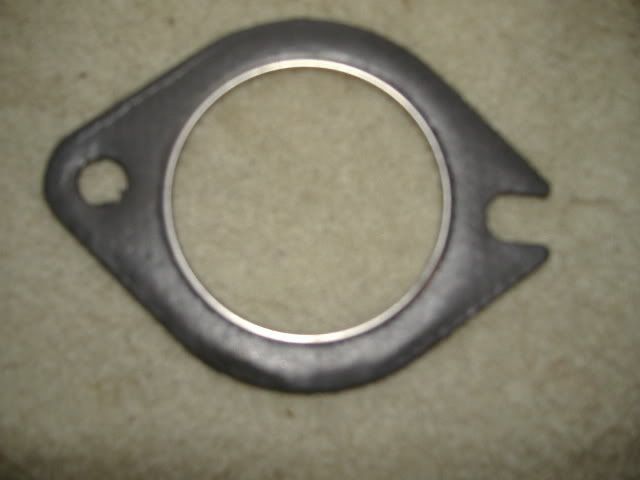 Remove 1 manifold bolt and install original gasket then the other bolt then all manifold bolts with ant seize and torque repeat other side. When doing right side header install dipstick tube. Tighten mid pipes and hook up O2s use extension wires as needed tie rap wires away from heat. You want as much space on left side of coupler as possible without touching or getting to close on right side. Turn key on and get under car turn coupler around watch clearance. If need be loosen 2 rack bolts and pry rack to side tighten when satisfied. Take key out. Let car down to ground install plugs with ant seize. Install plug wires. Look all around for anything out of place then install PS bolt to cradle and intake boot.
Hook up battery start and look for leaks and anything else going on. Should be good to go. Install FRCs and shut hood. You will need alignment soon if you moved anything. Be careful turning while on gas for coupler hitting and locking steering. I would try in open lot and really push it while turning just to be safe.