Discussion Starter
•
#1
•
Hello folks, Jeremy Formato will be back in the Gainesville area tuning, and installing intakes and throttle bodies on
Tuesday March 9th at:
Rollins Automotive
9430 Northwest 13th Street
Gainesville, FL 32653
(352) 335-7223
Then on the 11th, 12th and 13th at:
Rage Tek
2021 Southwest 70th Avenue
Davie, FL 33317
(954) 915-0016
Jeremy Formato Tuning:
The cost of dyno tuning is $400 + $85/hr for the dyno. If you are just looking for a street tune he can also do that for $300 w/ WB o2. We work very hard and are extremely thorough to make sure every vehicle is perfect and you are completely satisfied.
We are extending the intake and throttle body specials pricing of $325.00 for a stage 1 intake and throttle body OR $400.00 for the stage 2 intake and throttle body.
Installation is free.
Why a Formato Fasterprom Ported manifold and throttle body?
Stage 1 information:
The average gain for the LS2 intake manifold over stock is 11 rwhp/13rwtq. The LS3/L76 average gain over stock is 10 rwhp/12rwtq. The LS7 average gain over stock is 17rwhp/19rwtq.
We have done over 370+ LS2 intake manifolds, 110+ LS7 , and 90+ LS3 & L76s and over 380 TB's.
When porting the TB you will see greatly improved throttle response and bottom end/mid range Tq feel and a significant seat of the pants gain. Our manifolds are very thoroughly ported not only in the runners (like some do) but also much of the plenum and TB flange are enlarged in order to support more airflow in the upper RPM. The larger the air reservoir the less likely to deplete more volume in the upper RPMs. Hence the OEM difference of the '00 LS1 intake vs the '01 LS6 intake.
Stage 2 information:
Stage 2 porting is taking the manifold to its limit - as much of the plenum is removed while still staying safe from vacuum leaks. We rework all the runners for an even deeper cut and we use a much more aggressive sanding method, even deeper than the 8 inches we typically port in the stg 1 manifolds.
For stage two manifolds we remove the inner posts and completely flatten the plenum floor all the way to the back on the inside of the manifold
as well as the outside so as to make a air gap between the valley and manifold base. We epoxy small aluminum plates, screw them in, and then epoxy the inside as well, to prevent any air leaks. This stage 2 manifold porting is a cheaper alternative to a FAST manifold, but it is also designed for someone that is trying to FULLY optimize their power on a budget. We are targeting those that want the MOST from the stock manifold at a decent price.
On our own GTO we tested the stage 2 manifold vs our stage one and we picked up an additional 6rwhp and 7 rwtq on an A-B test on the dyno same day, same weather, same engine conditions. This is in addition to the 11/13 from the stage one manifold
We also had an independent test done by a shop in NY and they gained over 15+rwhp and 18+rwtq.
We do not offer stg2 for the FASTs. We port all of them as aggressively as possible, with over 3.5 hours to port per manifold.
Ls2 average gains over stage 1 porting is 6 rwhp/7 rwtq
LS3/76 average gains over stage 1 porting is 4 rwhp/4 rwtq
LS7 average gains over stage 1 porting is 4 rwhp/4 rwtq
Performance will vary depending on mods and tuning.
Please take a look at the results of some of the cars on the last South Florida trip that we dynoed, tuned, and swapped the intakes and TBs. Some are direct A-B swaps and show the results. Some are base runs then a rough tune and then we swap the intake and TB, and then fully optimize the tune.
05 GTO M6
"on the dyno" A (stage 1 ported manifold) vs B (stage 2 ported manifold).
After getting the base line run in, the stage 1 was removed and the stage 2 was installed and tested.
2010 M6 Camaro
full intake and exhaust, run 2 had a base tune in it, run 3 was the intake swap and the last run was the fully optimized tune with a little bit more spark advance. This is a very recent A-B test of a LS3 stock intake to a stage 2, performed on a dyno jet in S Florida.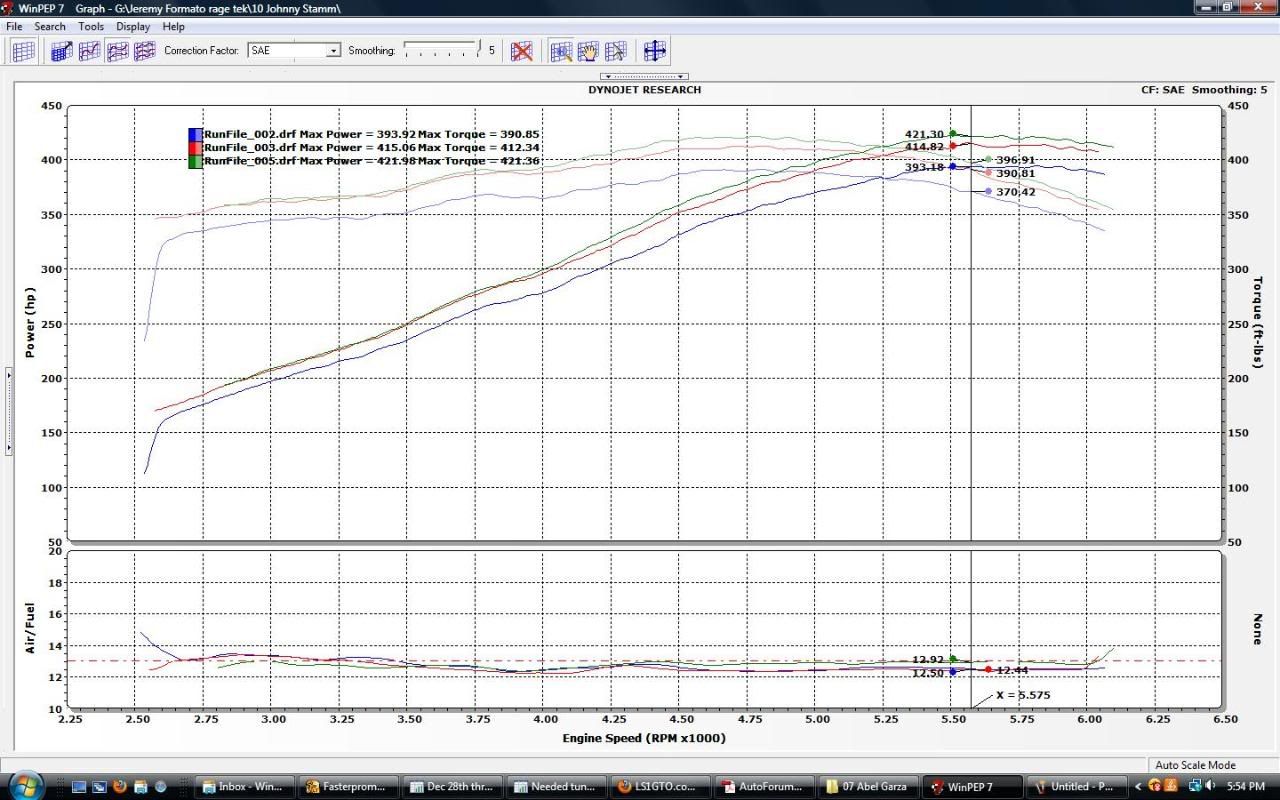 Results will vary and each car is different, with this one performing on the higher end of the scale, but the intake was a large factor in achieving these results.
Here is a
07 A6 Vette
- had a fully optimized Formato tune, re baseline the car and installed the stage 2 intake. Again, the increase in power is not simply a peak power increase but is significant through out the entire RPM range. Same day, same conditions, A vs B test.
Here is a
07 Z06
with the following mods:
Callaway CAI, Fasterproms Ported TB and stg 1 manifold, STOCK EXH manifolds, B&B Fusion catback, Fasterproms custom tune.
Run 1 was a baseline pull with all aforementioned mods, fully optimized.
Run 6 was Stg 2 manifold and a tuning tweak, more fuel.

Great article on our tuning and porting in High Performance Pontiac:
http://www.highperformancepontiac.com/tech/hppp_0909_2005_pontiac_gto_intake_manifold_and_throttle_body/index.html
Gm High Tech Performance article:
http://www.gmhightechperformance.com/tech/lsx_engine/0911gmhtp_2010_chevy_camaro_ss_engine_tuning/index.html
Porting the TB is a very nice SOTP difference, you will not see much of a gain on the dyno but your vehicle will be 10x more fun to drive and your throttle response will be greatly increased.
Porting the LS1 TB's is $100 installed. This will also greatly improve your throttle response. This is all on a core exchange basis.
If anyone is interested in having any headers or exhaust installed, we can get that done with enough notice, please call the shop to schedule an appt for this.