Discussion Starter
•
#1
•
I have been trying for a while to track down a slight engine noise that has been present ever since I installed my stereo system about a year ago. The engine noise is very faint, but gets worse when the air conditioning is on.
First the system:
Stock head unit
Line out converter
Rockford Fosgate P8004 powers four speakers
Rockford Fosgate P3001 powers two subs
Polk DB6500 6.5" component system installed in doors/dash
Polk DB650 6.5" coaxial speakers in rear shelf
Rockford Fosgate P18S4 8" subs in custom boxes in the side panels running in parallel for a 2 ohm load on the P3001 amp.
The wiring is done as follows:
To keep from cutting the stock wiring harness, I tapped into the stock wiring in the doors and in the rear side panels. I used male spade connectors pushed into the stock wiring harness that plugs into the speakers. The wiring then runs along the driver side of the car back to the trunk, and into a line out converter. I used shielded RCA cables to go from the line out converter to the amps.
All of the connections are made on the back of the amp board that mounts to the gas tank cage. I used screw-type terminal blocks from Home Depot and ring terminals to make the connections. You can see the back of the amp board in the picture. The outputs to the speakers are at the far left at the top. The inputs from the stock stereo are at the bottom right. You can see the line out converter at the bottom right.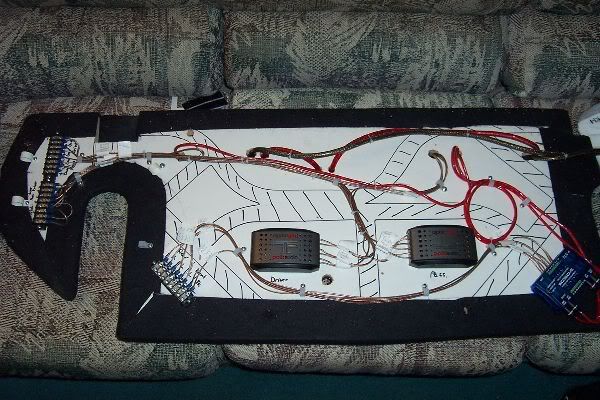 This is what the board looks like in place. The power cable has not yet been run down the passenger side in this view.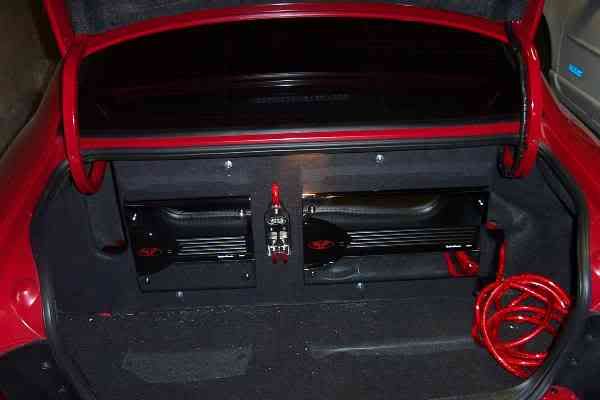 I grounded the two amps to a block mounted directly to the floor of the trunk. The metal was sanded clean. To try to get rid of the noise, I tried moving the ground to the gas tank cage mount, which did nothing to get rid of the noise.
Later, I installed a low voltage trigger to turn on the amps only when the stereo was on. Previously, I had the amps wired to be on whenever the ignition was on. This didn't get rid of the noise either. The noise is present whether the amps are on or off, and whether they are connected or not.
So, I started looking at the wiring. If I disconnect the front speakers at the terminal blocks in the trunk, the noise goes away.
My question is for those who have done similar setups... How did you wire things, and do you get any noise from it. I can't figure out where the noise is coming from...