Discussion Starter
•
#1
•
Yes!!! I figured I will start one of these since I was purchasing my GR Packages today.
These are pictures of fellow Goat Runners that I have had the opportunity to have a good time with on the strip during GR 2011. We decided to do some random photos on the strip of Las Vegas when we were feeling like walking the strip for fun.
It turned out to be the most fun I have ever had on the strip. Jose and Colin decided to just jump in with people on the strip and pose as I took the pictures cause that's what I enjoy doing. On this one particular Picture Jose was walking and saw this couple that was taking a picture from a cement wall that was about waist high. They were looking at the beautiful lights of Las Vegas and he bent down to look through his camera making sure he got a good shot of the picture he was concentrating on. His Female Companion was looking at the object he was concentrating as well. So Mr. Jose the party animal that he is walks up behind him and I just pressed the shutter button at the same time he is doing his pose. After the flash of my camera we just walked away like we were minding our own business. They both turned around and was trying to figure out what the hell that flash came from, Here is the results of that Shot.
Thanks Jose and Colin you made that one of the most memorable Goat Run Moments. Here are some other random shots I took with Colin and Jose posing with others.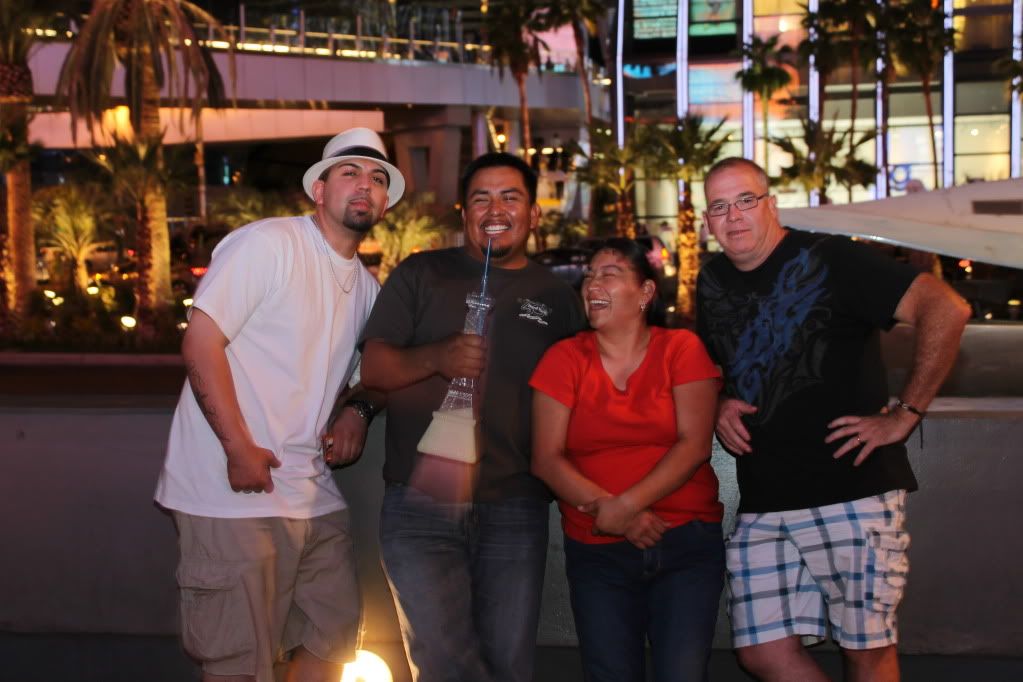 So with that the Count Down is on!!!
28 DAYS TO GO!!!