Discussion Starter
·
#1
·
Got a Call from a friend who said he rented one of the new Hertz Mustang GT's.
Met up with them for some lunch and took a few crappy pictures with my cell phone.
Also had another friend there with a Black 05 A4 GTO and another with an 06 E55 that has been wanting to run me.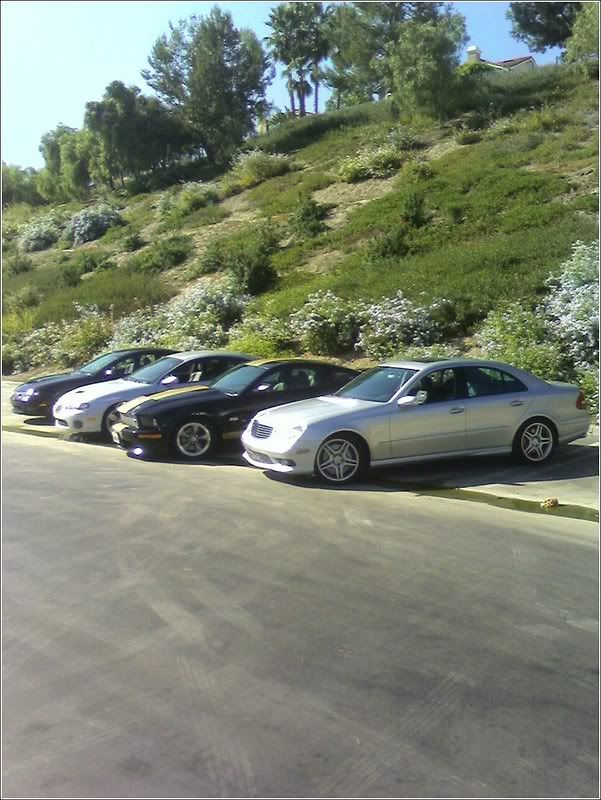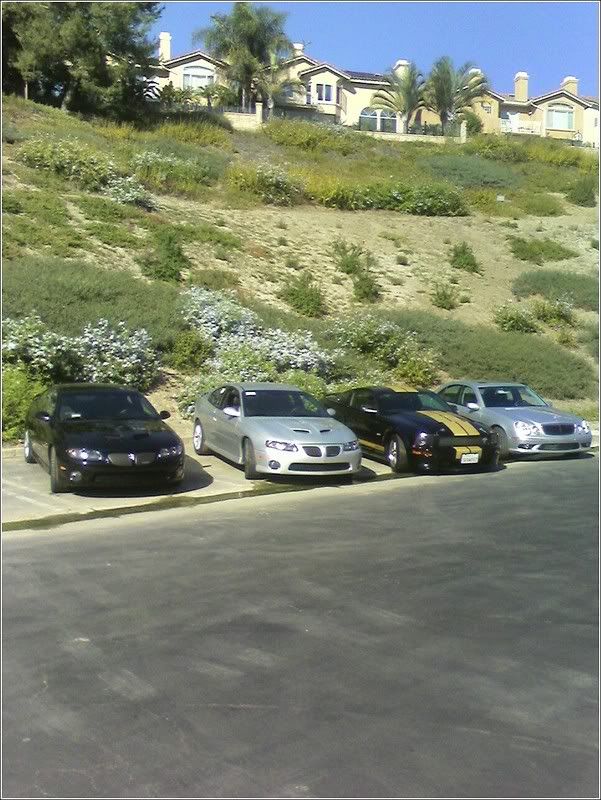 All three cars are stock except mine.
The GT-H was quite nice, much better then the GT's I see everywhere.
It had a great exhuast note and an Agressive Shelby look to it.
The only downside was it was Auto and we couldn't figure out the Traction control till later when it was too late. The Shelby package on it was very appealing.
We took the GT-H and E55 out to line up.
Found a nice 2 lane road out off of Ortega Highway near the dump.
Went from a dig 3 times with the GT-H, I pulled on it in every gear but it still surprised me.
Next up was the E55....
It was 100% stock but this beast of a Mercedes is nothing to ignore with 469hp and 500+tq from the factory.
We went from a dig 2 times, I launched a little to hard and we both spun thru 1st gear. I hit 2nd and grabbed 1/3 a car then he would creep up dead even. I hit 3rd and gained even less about 1/4 of a car, then he would once again creep up to dead even and I hit 4th gear and we stayed dead even.
We both let off at about 115 and pulled over, both stunned and speechless.
We decided to try 1 more time to conclude a winner in a race that was the closest I've experienced.
We lined up 1 more time with all most the same exact outcome except we let off at about 125. It hurts me to say this but after about 110 or 115 the E55 starts walking away.
All in all I was very happy with the outcome, the E55 owner gave me some credit for driving a stick against an auto.
It was a great time and I just want to thank the stock shifter gods for not letting me down.
LS2PWR:turbonaug