The stock Radius rod bushings are the biggest suspension problem on the GTO by far. They allow the tires to kick back in the wheel well 1-2 inches on braking. This movement also causes changes in the toe of the front wheels and will cause them to wear on the inside edges of the front tires. You may also have 'Braking Wander', the car seems to pull to the right and left under braking.
The Pedders EP9166 Radius Rod Bushings are a drastic improvement over the stock parts.
Advantages:
Improved tire wear
Improved braking feel
Improved steering feel
Less road wander
Cool Pedders Red color
Tips:
Drivers side only has an extra stock washer on the rear of the Radius Rod, you can re-use it, but it's not required.
Small amount of lube on the bushing face between the bushing and cupped washer, as well as between the ferrule and bushing.
Front nut torque to 109lb ft
Set to Sport Setting always.
2mm and 8mm spacers go to the rear most position
4mm spacer goes in the front between the large cupped washer, and the nut
Installing with less spacers in the rear will increase caster, but may cause the tire to contact the fender liner in front of the tire on turns, this can be corrected by moving the fender liner forward.
Leaving the stock caster offset washer on the drivers side is optional, I do not reuse them, others do, neither was is right or wrong, just different. I like to set the caster dead even, while GM likes it to be offset to make the car drift to one side.
http://wretchedms.com/product_info.php?cPath=200_22_49_53&products_id=49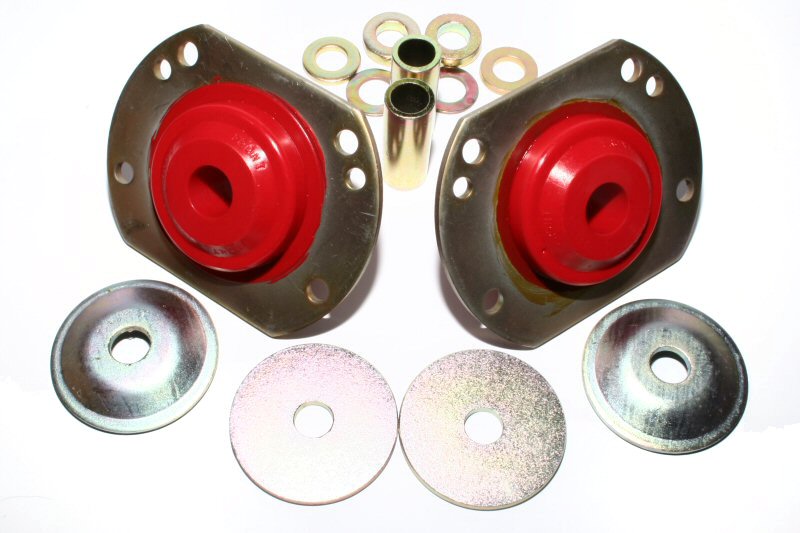 I need to re-do the above pic...