Here is a fairly simple mod for the tail lights using these halo rings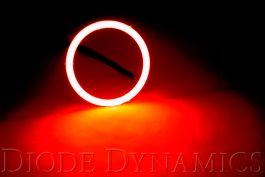 <div class="dcol1 ddescr"> <div class="block1"> <h3>Features</h3> <ul> <li>Proprietary durable phosphor coating, for uniform solid appearance</li> <li>Multi-function PWM drivers, fully waterproof, featuring low power, high power, and turn signal modes</li> <li>Extremely bright, high-density LEDs...

www.diodedynamics.com
This took the 110mm size. The process is not too bad. You just cut out the back of the tail/brake light housing and adhere them inside. Then use a RTV adhesive to reseal the back.
Wiring is
GTO brown - running light - halo white
GTO blue - blinker - halo yellow
GTO blue w/ red stripe - brake - halo red
GTO black - ground - halo black
When operating normally they are 50%, then for braking they go 100%, and then on a blinker they blink between 50% and 100%
It is hard to get pics right and they do look better in person. I did them because I like the way the new FordGT tails look.