Discussion Starter
·
#1
·
I'm probably not going about this the right way but I'm basically just following what youtube videos say to do. My only mods are headers and a FAST intake so it's not like I'm running tons of boost or even have a cam, so I feel pretty safe with what I've been doing. I'm pretty much hoping that by doing some of these things with my very mild mods I'll gain a better understanding of all this before it actually matters, sort of getting my feet wet.
Currently I'm trying to dial in the MAF, and it seemed to be going fine at first. Initially I was about 10% lean, so I added 10% to both high and low tables to start out rich and started logging, multiplying by % half, etc etc. DFCO, COT, all that stuff is turned off. About the 5th time instead of getting smaller and smaller rich values in the scanner, I got a few cells with 3 and 4% lean. I think it maybe has something to do with the cell hits in the graphs? One video said to start out with 5 then move up to 10 when you get further along, then another video from the same guy said the opposite- start out with 10 and move to 5 as you dial it in, so that made it a little hard to understand what the cell hits do. I'm pretty sure I'm supposed to raise the cell hits the closer I get to being done. Or maybe I should just have them higher than 10 the whole time. It's a hard thing to search for because it's probably so obvious to everyone, and also most of the results are guys talking about "hit as many cells as you can" when VE tuning. So that's noob question number one.
Then I ran across this thread which I found quite interesting: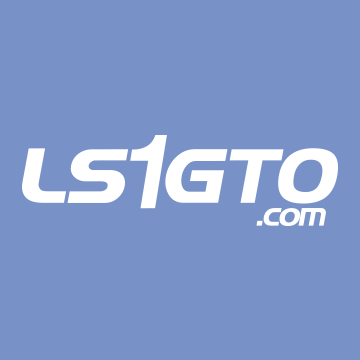 Dont know why my cylinder airmass is only at .56gs at WOT this is a H/C car stock ls6 intake and long tubes no cats. Also am in denver 5280ft. My Kpa is 80-85 on the map sensor at WOT. Car feels like an animal is what i dont understand and im getting ready to spray it. I just dont want a...
www.ls1gto.com
Specifically the discussion on lambda vs EQ ratio. In that thread Sacrifice and No Thubert JF Arnsworth say that EQ is the inverse of lambda. I was under the impression that lambda -
was-
EQ ratio. Everything in my scanner is set up for EQ ratio and it matches my gauge, when I go into PE the commanded EQ goes to like .8 something (I would have thought that if it were the inverse then it would go to 1.2?). What am I not getting here? When I read that I started freaking a little thinking I'm doing everything the opposite. But then why does my gauge confirm the way the scanner is set up? That was the first thing I did, make sure I'm logging the WB properly with the obd2 passthrough connector. "WB EQ Ratio 1 (SAE)" matches up with the gauge so I thought I had that part right. And when I added the 10% initially it seemed to jive with what I'd been seeing.
I don't just want to have my fueling dialed in, I want to understand the subject thoroughly. When I first got HP tuners last year and started reading about this I felt like a r t rd. Like my brain is so old I can't learn new things anymore. Then a few weeks ago when I got back into it everything was clicking a lot more. Now I'm getting that feeling again. lol So anyway I just wanted to start a new thread instead of necroing old ones because I'm sure I'm going to have more questions when I get further along.