Discussion Starter
•
#1
•
I just wanted you GTO guys to know that this years winner of the LSX shoot was Ronnie Hackelton and was running our 9" kit and 1400Hp 30 spline axles. This center section is the same one used in the GTO kit, if your serious about winning you might want to take a look. I know its been 2 week now but we just wanted to congratulate Ronnie on winning the Event and let every one know that the car was built by Bobby Shahan of Shahan race cars, during the event RPM helped put together a trans that was causing a problem to help Ronnie achieve his goal. Ronnie's runs the car often and hard, From what we have heard Ronnie wants the car to go faster and Bobby Shahan and I have decided to set Ronnie up with the new Wavetrac 33 spline diff along with the 33 spline "Pro-Axle kit" (will also be available for the GTO) when its ready just after the new year. keep an eye for this car because its not done.
Ronnie's car for those who dont know it.
Ronnie is running our 9" kit with 31 spline center section-1400Hp axles and Aluminum shaft for the T400. (soon to be 33 spline thru out)
this is the kit for the GTO, its almost the same but i didn't think you guys wanted to see a Camaro diff.
here is the kit
during the even one or our customers had an issue with what was first thought to be one of our 31 spline stubs, He stripped on of the splines. RPM's guys have my cell and called to see if the GTO 9" kit they had at the shop was the same, i confirmed it was but also warned them that if the spline stripped i may be the side gear in the diff and keep an eye out. They gave it to him and again on the 2nd try it stripped it again. Take a look at why.......
We have agreed to give the customer one of our new 33 spline Wavetrac diffs and get him ready for the next event.
We received the diff back yesterday, take a look. we have sold over (90)9" kits and normally dont see this kind of damage. T-bones goat was running a Eaton up until lately with out issue so i would consider this to be a isolated issue.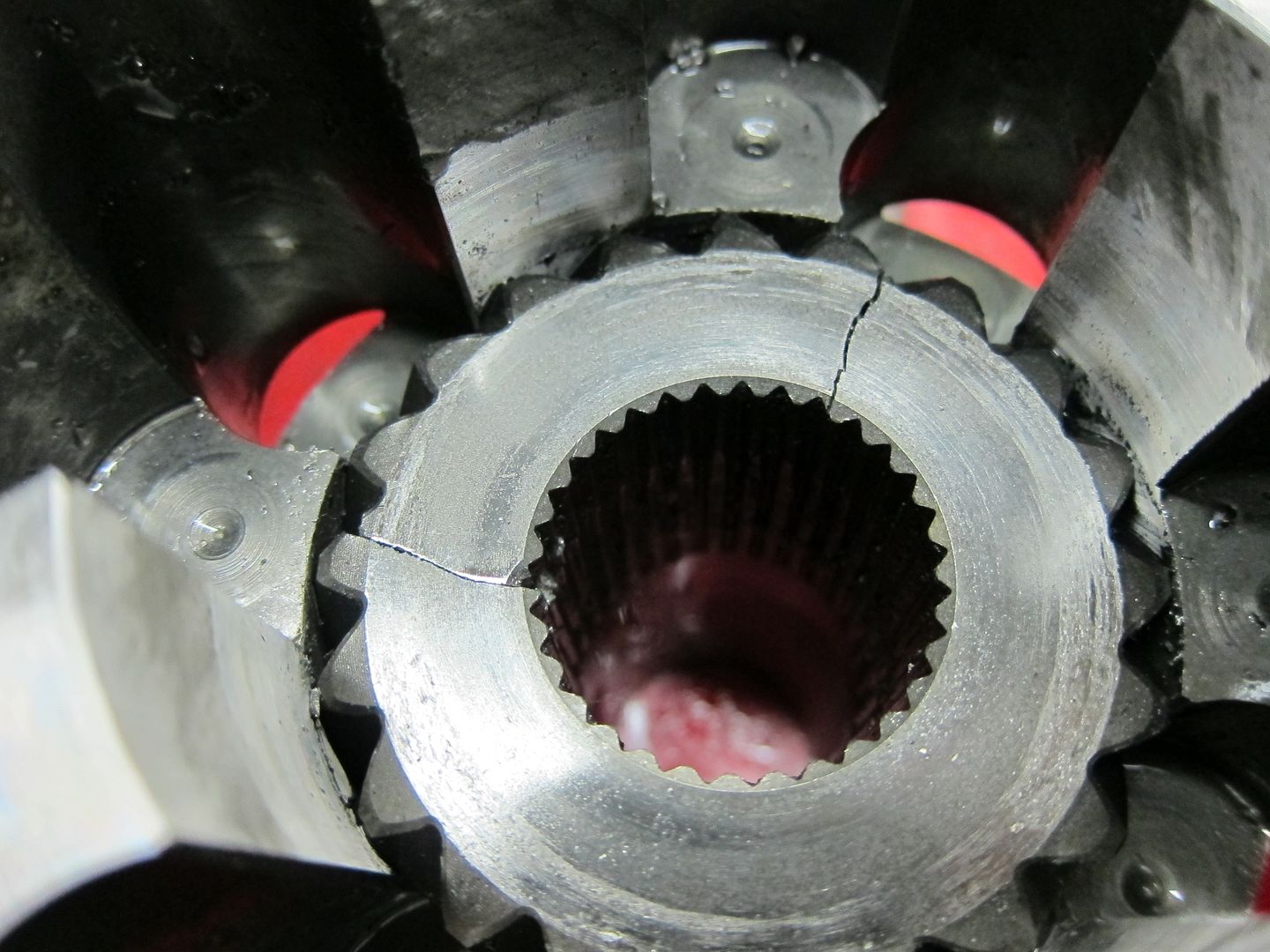 again i want to thank Ronnie for running our parts and also Thank RPM for being right there for the guys when they are needed.
Frank