Discussion Starter
·
#1
·
Well, I went with City Goat and Budski to Englishtown last nite. Weather was about 60 degrees, 70% humidity. Weight of the car with me in it was 3960 lbs as per the track scale. Next time i'll have to take out the backseat and spare tire like City Goat.
The car is a 2004/A4 with a K&N CAI, Predator tune, Flowmaster cat-back, and 160 thermostat running on BFGoodrich G-Force T/A KDW 245/45/17. Unfortunately one of my valve caps was frozen on, so I couldn't lower my tire pressure. All these runs were done with 32 psi in the rears. The car was set up exactly as it is everyday. I'm car number 120, in the right lane on all three runs.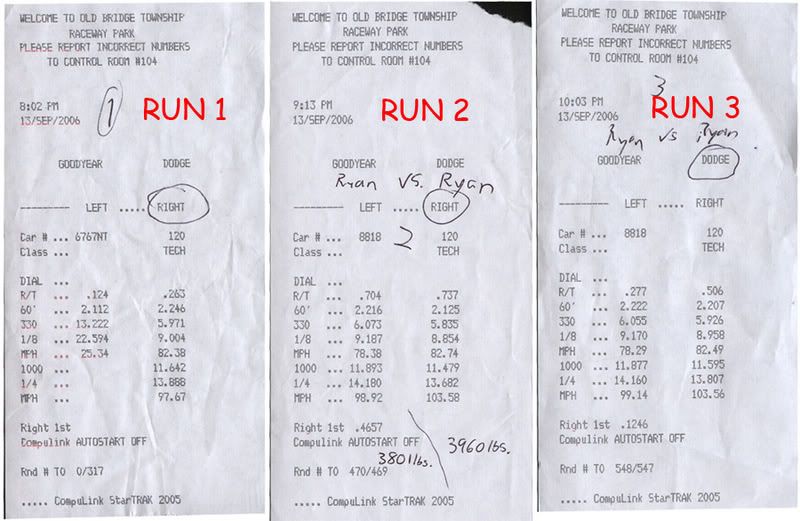 I was nervous as hell and on my first run, the turboed civic I was lined up with blew up at about the 60 ft. mark. I was only expecting to be running 14.2-14.0 and was definately surprised by my 13.8. I let off the gas a little to early (still nervous) hence the shitty mph of 97
My second run was the best, no spin off the line and I finally got to race City Goat. I couldn't beleive my eyes when I got the timeslip, I never thought I'd be running a 13.6 on my first time out.
My 3rd run, City Goat beat me off the line, (my reaction times suck) and I had a hard time catching up. Still a good time and mph though.
Overall I think I did pretty good for my first time, especially with only minor mods. Any comments or suggestions are always welcome.