Discussion Starter
•
#1
•
I finally got my TNT F1 kit installed and tuned today. My numbers with the 150 shot were 444hp and 408tq. i tried it out a few times on the highway and the extra horses kick in pretty good. I have a FPSS, but it was bypassed cuase it wasnt working right so i need to mess around with it or remove it. I also have a window switch, but for some reason on the first 150 shot pull(not shown), the RPMS went too high and turned it off, so theres something with the wiring i have to checkout. the next pull was done with the TPS only. my base numbers (with the timing pulled) was 307, the very furst run was 332ish. i cant wait to get a cam in there to help out with the bottle.
also, my A/F ratio was a bit high but that was cause it was aroun 1000psi. once i get my heater from dynotune, its gonna be set to around 1100, which sould make the A/F ratio a little better (and maybe help me pickup a few ponies)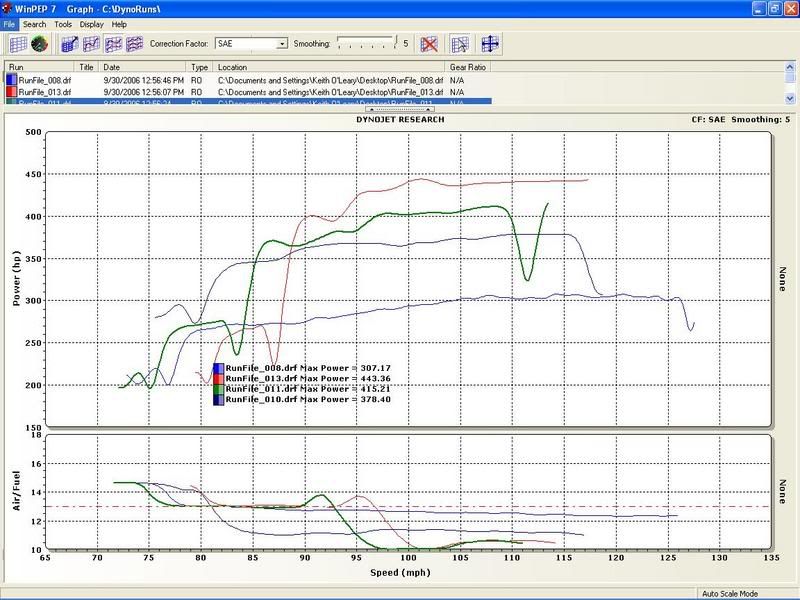 my mods so far (besides the bottle): jba shorties, jba catless mids, fuddle 3200 2.0str converter, shift kit, and volant intake.
oh, BTW, dont ask for any pics of the install. It looks like ass right now cause im waiting on a gauge, purge, and heater before i go through and tidy things up.
hopefully i have some new times tonight. my previous best on street tires was 12.9:gears: