UPDATE
--------------------------------------------------------------------------------
Well, back in again for more work. We are putting 3way component Focal's in the front doors and working up a dash mount for my Zune.
When we did the install the first time around, I ran out of money to finish up the doors like I wanted. Well, it's eaten at me long enough and those MB Quart Q series just don't have the ballz I'd hoped they did. So this time, we are going all out on the doors.
Yesterday was day one. Most of the work was tear down, planning, making the door molds, sourcing the suede for the doors and wiring. I only snapped one pic of the door mold since most of the work today was already documented. I'll post a set of pics after tonights visit, I expect the doors to be coming togather by tonight.
Scott, my installer, may save the door molds if theres interest in the area.
New door mold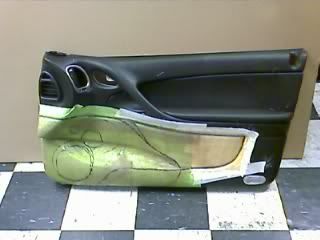 Origional install:
http://groups.msn.com/RaffertyHouse/stereo.msnw